2021 RAM 1500 TRX
It's Official. The Hellcat Powered RAM 1500 TRX is Coming!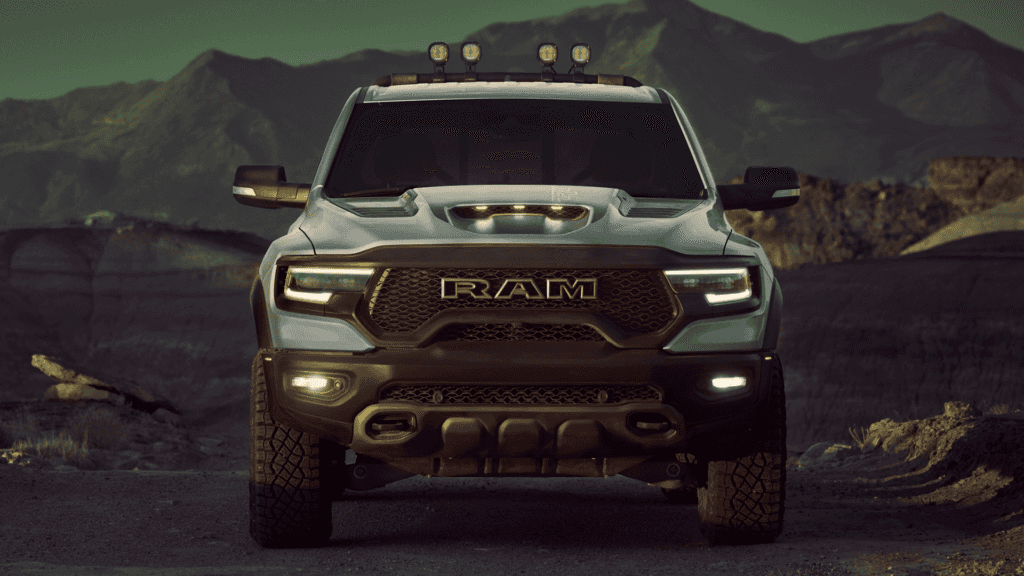 Built with Performance in Mind
The RAM 1500 TRX is anything but tame. Built with a 6.2L Twin-screw supercharged V8 Hellcat motor, the TRX can go 0-60 MPH in as little as 4.5 seconds, straight off of the lot. Coming out of the factory with 702 horsepower and 650 lb-ft of torque, this truck checks all of the right boxes. The twin-screw supercharger provides near-instantaneous torque, has a maximum speed of 14,600 rpm, and can regulate boost pressure up to an astounding 11.0 psi. Now, to make use of that large supercharger, you have to be able to feed it ample airflow. The high-performance air induction system filters four times as much dirt and debris than the Ford Raptor, all while consuming up to 32.9 liters of air per minute. At this point, you may be thinking to yourself, "how can the motor handle that?" But, you have to keep in mind that this is the SRT performance team that we're talking about. The robust cast-iron block, of the Hellcat engine, restrains a forged-steel crankshaft with induction-hardened bearings, all engineered to withstand firing pressures of 1,595 psi—the equivalent of 20,000 pounds of force.
A Beast on the Road and Offroad
The RAM 1500 TRX is the first RAM truck to be equipped with Launch Control with Launch Assist, which regulates engine RPM and monitors wheel slip feedback in order to always achieve the fastest possible acceleration rate. In the cab, you can monitor instantaneous horsepower readings, steering angle measurements, personal records, and more—all in a customizable dashboard. There aren't many vehicles that allow you to view all of that, in addition to the onboard integrated dynamometer that lets you measure your peak horsepower, torque, and boost pressure on any run.
Navigating the unknown in the TRX will be a test of your patience as you wait for your friends to catch up to you. The all-new Bilstein® Black Hawk® e2 shock system is the most sophisticated ever offered on a production truck and it's found only on TRX. Coming in with a staggering 11.8 inches of ground clearance, 13 inches of front suspension travel, and 14 inches of rear suspension travel, the TRX has the suspension for the roads and trails ahead.
Ready to Reserve Your TRX or Want to Learn More?